Paper Park
Takoma Park, Maryland
Paper Park is an installation project on the site of a "paper street" in Takoma Park, Maryland. Paper streets are found throughout the United States and are described as vacant lands that were originally planned to be streets on paper, but were never actually constructed. Local governments typically own these vacant properties but are often not aware of them until they become a problem. Paper streets are sites where trash is illegally dumped and where overgrowth of vegetation compromises unobscured views and safety, especially when the paper streets are located in residential neighborhoods.

Our client for Paper Park is the City of Takoma Park, who we have been collaborating with since 2014 when we received a National Science Foundation ADVANCE grant through the University of Maryland to do historical research to identify the paper streets in Takoma Park and propose design options for transitioning them from a problem to an amenity for the city.

Paper Park is located along Cockerville Avenue. It has a few standing dead trees that mark the site like totems and make it visible from a distance in many directions. The paper street represents one of the lowest elevations within a creek valley. Walking on a sidewalk that wraps the lip of the valley and the residential block affords dramatic aerial views of the Paper Park below.

The Cockerville paper street is overgrown during the summer by chest height vegetation, including many invasive plant species. The Paper Park installation there is designed to reduce maintenance and increase overall safety by creating a woven mat that suppresses the growth of plants in the spring and creates comfortable pathways for visitors to the site. The mat is woven with grasses and was constructed as a bird might construct a nest, by piecing together bits and strands until a thickened enclosure is formed.

We researched and sourced local materials that were biodegradable, non-toxic and had low embodied energy and used them to make study models. We also studied traditional techniques used for binding and weaving mats. Although the models used materials that did not exactly fit the idea of "low heat" because they were ordered off Amazon and sourced from the far east, the final design is more careful about local sourcing and identifying the plant species used. Two varieties of willow, hemp rope, and dried grasses dyed with the root of turmeric plant to make a bright yellow color will be woven into the final mat construction.

The intended audience for Paper Park is planning offices throughout the Mid-Atlantic who are facing the same maintenance challenges and looking for no-pesticide, low-fossil fuels options. In this way, Paper Park is part of larger converstions about "clean economies" and climate change. The Paper Park serves as prototype and research station for urban landscape maintenance strategies. The end-use for Paper Park is also to provide a well-maintained, visually dynamic open space for the local residential community.

*Thank you to University of Maryland Office of Sustainability for supporting this project with a Sustainability mini-grant.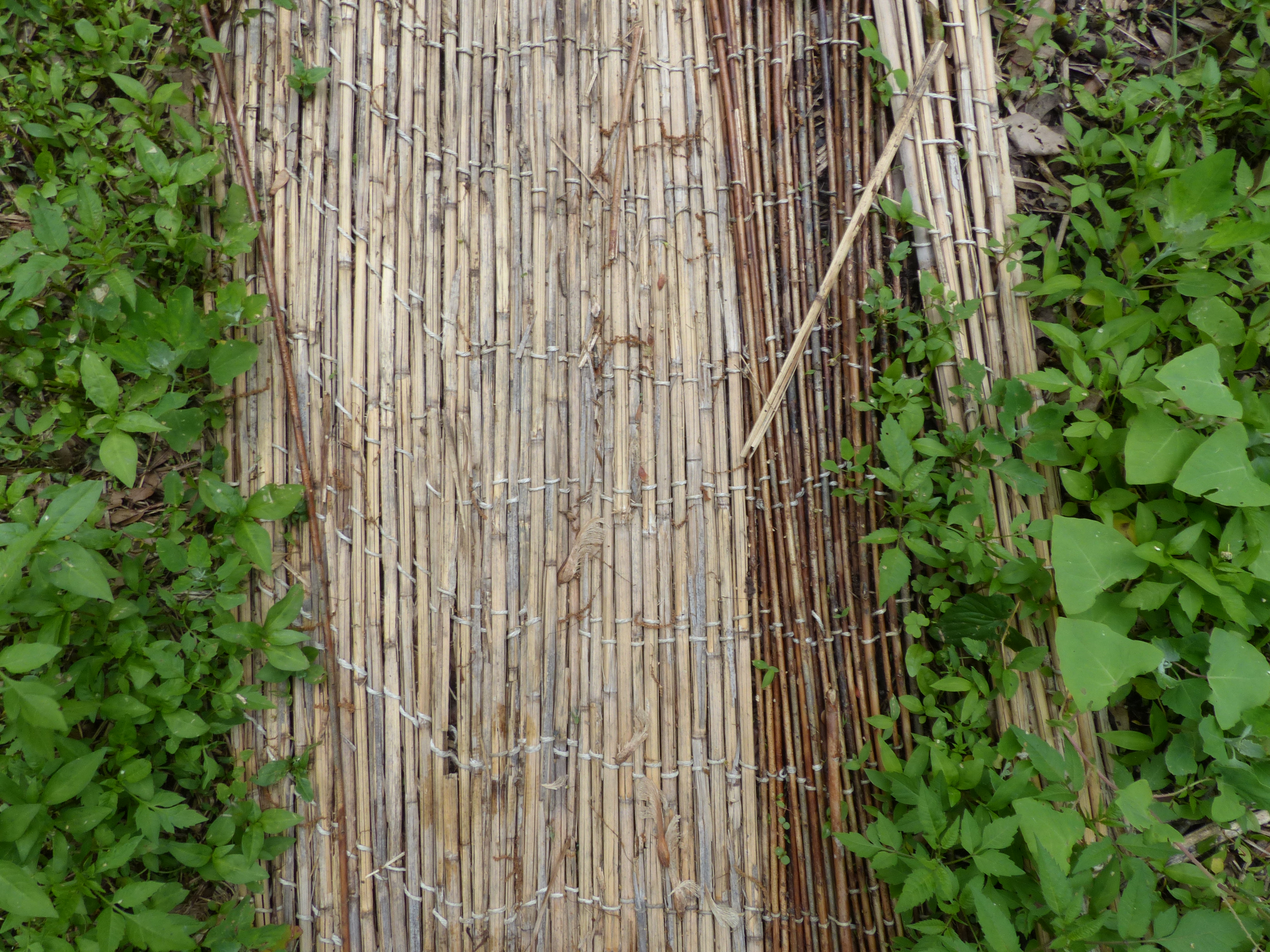 Test results in! The mat has blocked weed growth without the use of herbicides or cutting by fossil fuel driven weedwackers. The turmeric dye was washed away during the winter season. It left behind a tough and sinuous, yet silky to the touch phragmites. Detail of walking path, early summer 2019.
Weaving looms in studio at University of Maryland, 12-2018


Constructing installation on site, 12-2018
Panels hanging in studio at University of Maryland during construction, 12-2018
Design sketch, Ellie Cromwell, 09-2018
Low heat material model 1, Basswood sticks (Tilia americana), hemp rope (Cannabis sativa L. subsp. sativa var. sativa), Green Floral Crafts 40" Tall Dried Grasses (Dried Foliage Leaves), Pack of 75-3-tone Brown from Thailand, purchased on Amazon.com (species unknown), Anastasiya Volkava, 10-2018
Low heat material binding detail, Phragmites stems (Phragmites australis), hemp rope (Cannabis sativa L. subsp. sativa var. sativa), turmeric for hand-dyeing (Curcuma domestica), Ruth Shatkay and Anastasiya Volkava, 11-2018


Low heat material binding detail, Phragmites stems (Phragmites australis), hemp rope (Cannabis sativa L. subsp. sativa var. sativa), turmeric for hand-dyeing (Curcuma domestica), Ruth Shatkay and Anastasiya Volkava, 11-2018
Low heat material binding detail, Phragmites stems (Phragmites australis), hemp rope (Cannabis sativa L. subsp. sativa var. sativa), turmeric for hand-dyeing (Curcuma domestica), Ruth Shatkay and Anastasiya Volkava, 11-2018


Low heat connection detail, Bamboo (Phyllostachys aurea), hemp rope (Cannabis sativa L. subsp. sativa var. sativa), Ian Eichensehr, 10-2018
Woven paper plan 1, Ruth Shatkay, 11-2018


Woven mat installed on site, from left to right undyed reeds (Phragmites australis), willow poles (Salix americana), turmeric dyed reeds (Phragmites australis), organic turmeric dyed hemp (
Cannabis sativa)
and
(Curcuma domestica)
, 12-2018
Woven paper plan 2, Ruth Shatkay, 11-2018
Weaving model 1, paper, Anastasiya Volkava, 09-07-2018

Weaving model 2, paper, Anastasiya Volkava, 09-2018
Inlet model, paper, Ruth Shatkay, 09-2018
Low heat connection detail, Basswood sticks (Tilia americana), hemp rope (Cannabis sativa L. subsp. sativa var. sativa), Ty Fantanilla, 10-2018
Low heat material loom 2 detail, Willow, Salix Americana (eriocephala x petiolaris), Forsythia founder-members (Forsythia suspensa and F. viridissima), jute rope (Corchorus olitorius), Anastasiya Volkava, Danielle Abe, Eleanore Cromwell, 10-2018
Low heat material loom 2 detail, Willow, Salix Americana (eriocephala x petiolaris), Forsythia founder-members (Forsythia suspensa and F. viridissima), jute rope (Corchorus olitorius), Anastasiya Volkava, Danielle Abe, Eleanore Cromwell, 10-2018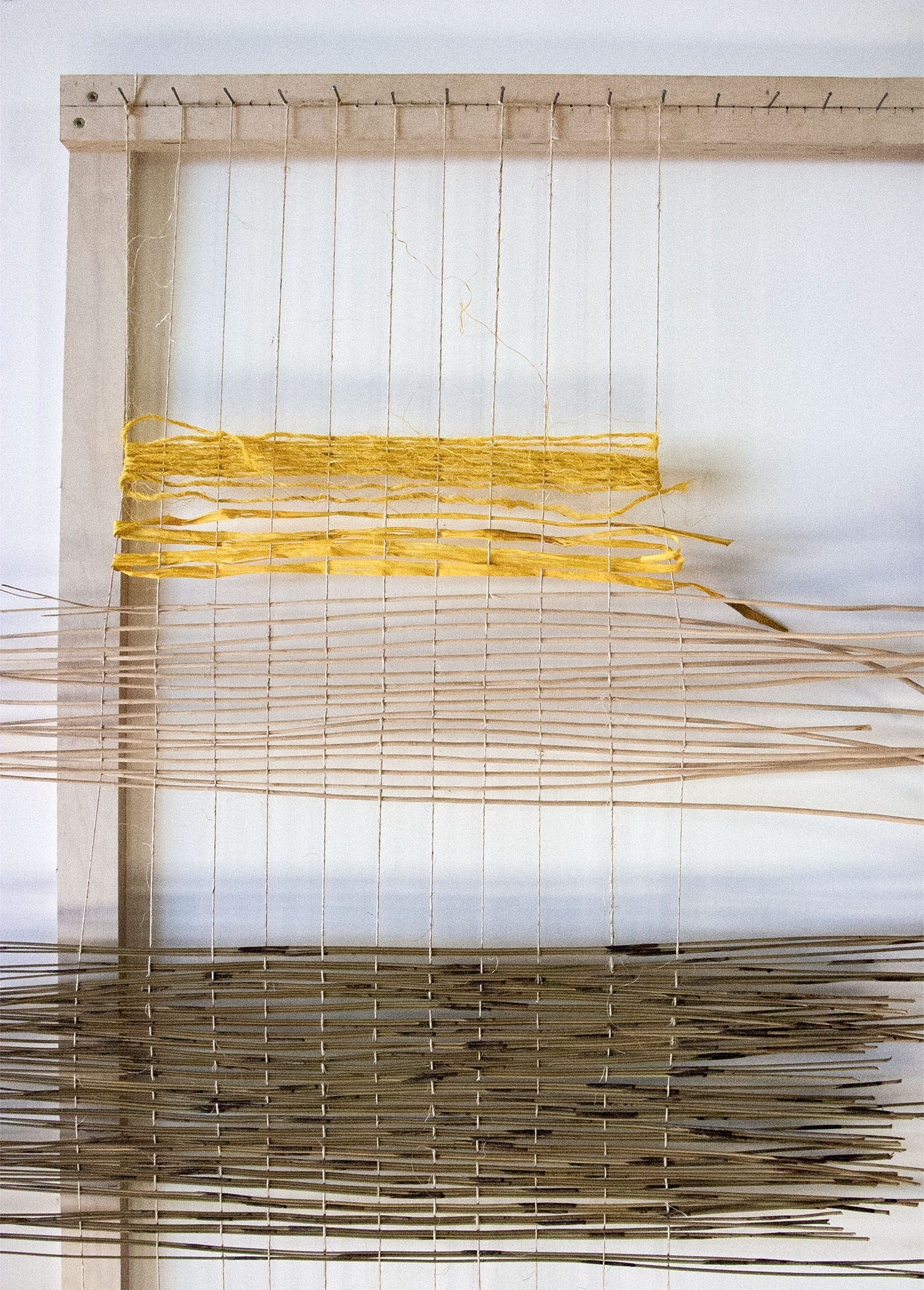 Low heat material model loom 1, hemp rope (Cannabis sativa L. subsp. sativa var. sativa), Green Floral Crafts 40" Tall Dried Grasses (Dried Foliage Leaves), purchased on Amazon.com (species unknown), Anastasiya Volkava, Danielle Abe, Eleanore Cromwell, Ty Fonantilla, 10-2018
Low heat material loom 1, hemp rope (Cannabis sativa L. subsp. sativa var. sativa), Green Floral Crafts 40" Tall Dried Grasses (Dried Foliage Leaves), purchased on Amazon.com (species unknown), Anastasiya Volkava, Danielle Abe, Eleanore Cromwell, Ty Fonantilla, 10-2018
Proposed site plan drawing and construction details, Jana VanderGoot, 10-2018

Pill model, paper, Pat Hirsch, 09-2018
Leaf and white paper, Ruth Shatkay, 09-2018
Low heat material model 2 detail, Basswood sticks (Tilia americana), dried Raffia Grasses, purchased on Amazon.com (species unknown), Ellie Cromwell, 10-2018
Weave model, paper, Ruth Shatkay, 09-2018
Low heat material model 2 detail, Basswood sticks (Tilia americana), dried Raffia Grasses, purchased on Amazon.com (species unknown), Ellie Cromwell, 10-2018
Low heat material model 4, dried Raffia Grasses and reeds, purchased on Amazon.com (species unknown), Ellie Cromwell, 10-2018
Low heat material model loom 2, Willow, Salix Americana (eriocephala x petiolaris), Forsythia founder-members (Forsythia suspensa and F. viridissima), jute rope (Corchorus olitorius), Anastasiya Volkava, Danielle Abe, Eleanore Cromwell, 10-2018
Tangle model, paper, Ruth Shatkay, 09-2018
Low heat material model 3 top view, Basswood sticks (Tilia americana), dried Raffia Grasses and reeds and jute burlap, purchased on Amazon.com (species unknown), Ellie Cromwell, 10-2018
Low heat material model 3 side view, Basswood sticks (Tilia americana), dried Raffia Grasses and reeds and jute burlap, purchased on Amazon.com (species unknown), Ellie Cromwell, 10-2018
Low heat material model 1 top view, driedreedspurchased on Amazon.com (species unknown), Ellie Cromwell, 10-2018

2018, National Center for Smart Growth + low heat, Washington, DC